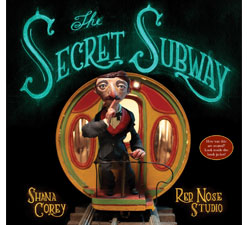 On the back jacket flap describing the author, Shana Corey, "…when she came across a passing mention of Albert Ely Beach's underground train, she wanted to know more." This is how I feel, often, when reading nonfiction nominees for the CYBILS award. Shana Corey does a great job of fleshing out the story in picture book format. I always want to learn more, but moreover, after reading this book, I think something along these lines, "This is SO cool!". Red Nose Studios does a vivid job of bringing the story to life in their own unique way. Looking at the details included in each illustration, I cannot fathom the amount of work needed to create each scene. To sum up, Beach thought of the first way to move people underground, but to get permission to do it, he had to indicate he was really moving mail. The near forgotten tunnel was found when the city was tunneling to build the subway.
Illustrator: Red Nose Studio
Published 2016 by Schwartz and Wade Books
This copy was borrowed from the public library for purpose of review.