Wow! I had a tough time putting this book by Kate Messner down. I have been following Kate on twitter for a while now and I have always heard such wonderful things about her books but had not yet read any of them. I got both The Brilliant Fall of Gianna Z and Sugar and Ice from the public library to see if these are books we should get for our school library. Sugar and Ice was due back and in high demand so I could not renew it, but I finished The Brilliant Fall of Gianna Z. just in time. I love the figurative language that Kate Messner uses in her writing. Teachers liking fir strong examples of figurative language should take a look at The Brilliant Fall of Gianna Z.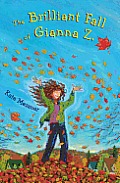 So many colors get thrown together here, like they're all shouting to be heard at once. (at the farmer's market)
Tiny little seashells in the stone. Ocean shells. On top of a mountaintop that feels like it's miles in the sky. (fnding fossils)
Especially snow that happens when you least expect it and just sprinkles down for a little while. It feels like a secret.
Kate's very realistic portrayal of a leaf project and one student's extreme procrastination hits close to home for many students. And offers the opportunity for many, many leaf jokes by Gianna's younger brother. The main character's very real obstacles makes the reader feel even more involved in the story and wanting to learn the outcome of what will happen to Gianna, Zig, Nonna, and all of the other characters.
Robert Frost and his poem, "Birches" bear special significance in this story. Reading the lines of his poem interweaved with Messner's writing makes me want to climb, ponder, and hug a tree. I would love to lay down beneath a tree and take a good, long gaze at the beauty of the branches reaching to the sky and the intricacies of the leaves we so often take for granted, or bitterly resent raking. This book is inspiring. Pick it up today.